Mexico Electoral Fraud Unveiled
In Andres Manuel Lopez Obrador (AMLO) fight to demand a recount of Mexico's July 2 presidential election,
Prensa Latina
is reporting that Mexico's "Por el Bien de Todos" coalition is presenting additional proof electoral violations took place. Among the proof to be shown will be broken seals that were illegally opened at the ballot boxes and proof that a "US daily published propaganda favoring ruling candidate Felipe Calderon three days before the election, an incident that violates the Institutional Federal Code and Electoral Procedures in Mexico."
Mexico's election is very similar to another famous election and its not the 2000 and 2004 US Presidential election.
Guardian Unlimited
's James Galbraith reminds us of the election in the Ukraine, where the favored presidential candidate had claimed fraud in a tight race. It is interesting during that time US defended the right of the citizens for be heard, but this time around, the defender of democracy chooses to defend the Mexican citizens. In fact, Bush went so far to congratulate Calderón, without waiting for the court to rule.
It seems elections only appear to be democratic throughout the world wherever the US has a strategic interest, such as in
Colombia
and
Peru
in 2006 and
Iraq
and
Afghanistan
in 2005 which these days means everywhere.
Galbraith points out that the difference between the two elections, in Ukraine it was difficult to know exactly where the fraud took place and in Mexico, it is the opposite. In Mexico, the Mexican electoral authority, known as the Federal Electoral Institute (IFE in its Spanish initials) posted the ongoing count on its website in real time, an initiative called PREP. So the whole world was able to monitor the results or did they?
Soon after the election, López Obrador cited many clear irregularities including manipulating preliminary vote totals, initially never counting 3 millions votes and, hours later, the IFE had to acknowledge the mistake. The results published on the Prep's website, regarded at that stage as valid by Mexico and the world, were erroneous; 13,921 ballot-boxes, representing more than 3 million votes, had indeed been excluded from the count. The election was still open, and López Obrador had to wait until July 6 when a hard recount would occur. Once again, the
IFE declared Felipe Calderón winner
of the recount with a final count being Felipe Calderón with 35.88% and Andrés Manuel López Obrador at 35.31%; a statistical difference of 0.57 points.
What seemed to be a López Obrador victory on July 5, was nothing but an illusion. During the hard count, which López Obrador enjoyed a lead all day, AMLO saw his lead fall to under 0.5 percentage points after 94% of the votes were counted, AMLO with 35.84%, while Felipe Calderon was at 35.35%.
According to
La Jornada's Roberto González Amador
, the vote totals don't match the percentages reported. Amador
explains
:
Given the just over 15m votes Calderón was said to have earned, the percentage reported for him, 35.89%, could only be obtained by including invalid ballots in the total reported. If, on the other hand, one takes the overall vote total and the percentage reported for Calderón as correct, then his total vote must have been substantially less than was reported.

The same is true for AMLO and the other candidates, and there is a total shortfall of over a million votes between what can be justified by the official percentages of the valid votes, and the sum of votes reported. The discrepancy proves nothing, but even if it is only a simple error, it certainly seems to cast doubt over the competence of the count.
This was echoed by one of Mexico's top statistician, Victor Romero of Mexico's National University. In a Democracy Now!
Exclusive Report
, Dr. Romero shows Greg Palast a computer printout how the official tallies matched the exit polls, with challenger López Obrador ahead by 2% all night. It was not until the very end, when several precincts came in for Calderón by 10-to-1, and then 100-to-1, giving Calderón the victory.
A Close Shave
"It's not the voting that's democracy, it's the counting."
-- Tom Stoppard, 1972
To understand how Calderón won the next presidential election, it helps to exam the IFE's website. There seems to be evidence that vote "shaving" has contributed to the election fraud. The pattern has already documented to have helped Calderón on the IFE PREP totals. Although IFE has declared Calderón the winner, IFE still refuses to account where it got its current set of numbers.
Evidence #1: Tabasco precinct number 0245
On the PREP system, IFE reported that López Obrador received 203 votes, however, the acta (the signed precinct result) states that López Obrador received 236 votes. A clear reduction of 33 votes from a single ballot box.
PREP result from Tabasco (click to enlarge image):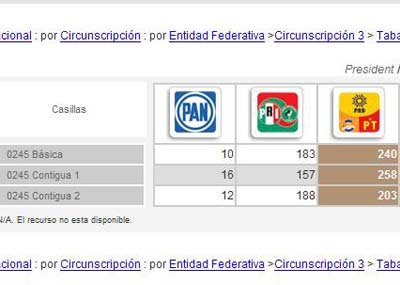 The "acta" from precinct number 0245: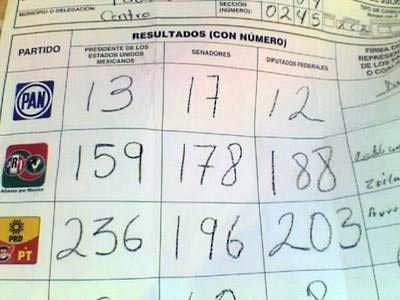 Evidence #2: State of Mexico precinct number 1019
IFE reported that López Obrador received 88 votes, while the acta reported that López Obrador received 188 votes. A reduction of 100 votes.
PREP result from State of Mexico (click to enlarge image):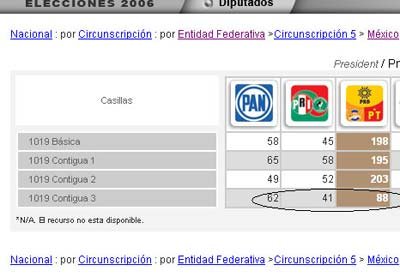 The "acta" from precinct number 1019: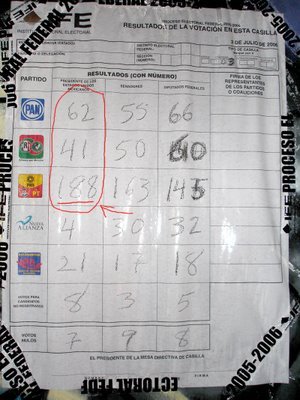 Narco News' Al Giordano
provides more evidence on this election phenomenon.
In other districts, there was a pattern of one vote shaved from López Obrador between the acta and the PREP results, or one vote added to Calderón. Narco News has reviewed similar photos of that phenomenon from Baja California precinct 0105 (62 votes for Obrador, 61 reported), and from Baja California precinct 0548 (190 votes for Calderon, 191 reported).

Here are some others; this report only cites those that we have been able to review via photographs of the original actas: Veracruz precinct 2073: 188 votes for Obrador, 186 reported, two votes disappeared. Morelos precinct 0061: 194 votes for Obrador, 190 reported, four votes disappeared. Mexico City precinct 2411: 139 votes for Obrador, 134 reported, five votes disappeared. Querétaro precinct 0375, ballot box #1: 103 votes for Obrador, 102 reported, one vote disappeared. State of Mexico precinct 0855: 208 votes for Obrador, 197 reported, 11 votes disappeared. State of Mexico precinct 0297: 167 votes for Obrador, 159 reported, eight votes disappeared. Mexico City precinct 0444, ballot box #2: 322 votes for Obrador, 318 reported, four votes disappeared.
It's All In The Stuffing
"It's not the people who vote that count. It's the people who count the votes."
-- Josef Stalin
Recently,
El Universal
reported that López Obrador released a video in which an election official in Salamanca, Guanajuato is caught stuffing many ballots into a ballot box. The video captures a man wearing a blue-and-white shirt (PAN's campaign and logo colors) stuffing one ballot after another into the ballot box. In the Salamanca district, IFE reported that Calderón received 93,062 votes to 23,278 for Obrador. Unfortunately the video is not available online.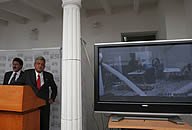 In the other video Obrador released, election officials in Querétaro were caught on tape changing the vote tallies to create more votes for its Calderón. Interestingly, PAN does not deny the facts. It simply claims that those cases amounted to normal, allowed, functions by election officials. The public temper rises with every such justification.
With a divided Mexico the Judicial Power Electoral Federation Court (TEPJF in Spanish) is now faced to make a critical decision: a) to count vote by vote, voting stall by voting stall and to eventually recognize Lopez Obrador's victory; b) validate a fraudulent election declare Felipe Calderón winner; or c) to declare the process null and void, and organize a new presidential elections, which could mean political and social conflicts in an already divided and fragmented Mexico.
Outside Mexico's borders it is widely believed Mexico had a clean election and that they have an excellent electoral structure. However, the evidence and the numbers suggest otherwise. The 1.1 million Mexican people who marched through their capital on July 16 are determined to carry that struggle forward until justice is won.
On Sunday, July 30, 2006, between 2 and 3 millions pissed off peasants and workers aligned with the candidacy of Andres Manuel Lopez Obrador (AMLO) will take part in the third of a series of informative meetings in Mexico City's main square, the Zocalo. And to deny then concern is unjust.
AMLO and his supporters are unwilling to yield their contest of the election until a full recount has occurred. At least one member from the TRIFE has indicated that one possible resolution of the current situation would be the
annulment of the election
.
"In this moment, if National Accion (ed note PAN) continues to reject the opening of ballot boxes, very important decisions are going to be made, vigurous, radical, and absolutely strong actions that leave no doubt that we are not going to permit an imposition. (ed note of the electoral result) The PAN knows, 1988 isn't 2006, this time the imposition will not pass.
Unlike Al Gore, John Kerry, and the Democratic Party, Andres Manuel López Obrador will not settle for anything less, not when the political stability of the country hangs in the balance.