Labor Day March for Immigrant Rights
(Hat tip to
Stace at Dos Centavos
for bring this up)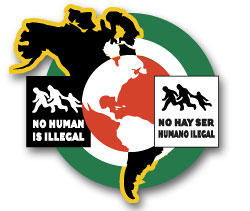 A message from the
National Immigrant Solidarity Network
Debate Endgame in this Congress -- Stalemate, Solution, or Setback?
When Congress returns just after Labor Day, it only has five weeks left before recessing for the mid-term elections in November. With immigration being one of the nation's top policy issues, will some sort of immigration bill be enacted this year? If so, what kind?
The debate is so volatile it's risky to make predictions. But I like taking chances, so here are four possible scenarios, with my predictions of their likelihood, from most likely in my view, to least.
Scenario 1: Stalemate
After spending the summer staging one-sided "field hearings" aimed at bashing immigrants and the more comprehensive Senate bill, the Republican House leadership decides to go for a kill in September. They approve "Sensenbrenner-lite" -- the original enforcement-only bill enacted by the House last December but with changes to the provisions that make undocumented immigrants and those who assist them into felons.
The Senate, having recently passed a flawed but unprecedented comprehensive reform bill – one that provides more visas and a path to citizenship for many but not all undocumented immigrants, as well as tough and excessive enforcement measures – criticizes the House for sticking with an enforcement-only approach. It asserts that only an "enforcement-plus" strategy will work, pointing to opinion polls showing that 75 percent of the public agrees. The House stands its ground, the Senate does the same, and the result is a stalemate.
Likelihood By deciding this summer to agitate rather than legislate on illegal immigration, House Republican leaders clearly hope border security/illegal immigration will be a wedge issue that motivates otherwise despondent conservative voters to show up at the polls in November. My guess: House Republican leaders will decide to stay the course right up through the mid-terms this November. The result? Stalemate. We start from scratch next year.
Scenario 2: Sensenbrenner-lite sealed with a promise
The House, looking for a legislative result but on their terms, passes a watered-down version of the Sensenbrenner bill in September. But instead of bucking the Senate and the president, they promise this is but a "down payment" for a more comprehensive approach next Congressional session. House Democrats, fearful of looking "soft" on illegal immigration right before the elections, vote for the measure in droves.
This puts pressure on the Senate to "do something" before the elections. Republicans do it in the name of party loyalty and claim this is but a first step. Many Democrats go along to avoid misleading but punishing 30-second campaign ads right before the elections. The president thanks Congress for taking the first step and signs the "enforcement-first, comprehensive reform next" bill into law.
Likelihood Even if the House passes Sensenbrenner-lite, and even if many House Democrats vote for it out of fear, Republican Senators who support comprehensive reform are unlikely to cave in. Moreover, the president is unlikely to accept what would amount to a major defeat for him.
Republican reformers in the Senate have shed a lot of blood to pass the Senate bill this spring, and they are deeply offended their House counterparts have spent the summer criticizing them rather than negotiating. They firmly believe that enforcement-first is enforcement-only, and enforcement-only is bad policy. They and the White House maintain that the House approach is bad politics because pragmatic swing voters want practical solutions and up-for-grabs immigrant voters now see immigration as a defining issue.
If this scenario unfolds, I predict Senate Republican reformers and the White House will stay strong, refuse to go along, and the House gets the blame for the ensuing stalemate.
Scenario 3: Threading the bipartisan needle towards workable comprehensive reform
The Republican House leaders return in September and realize their silly "field hearings" have backfired. They become fearful that the "do-nothing" label is sticking and decide to go for a bill. The White House calls together Senate and House leaders for informal negotiations.
With the Republicans deeply divided between comprehensive reform and enforcement-only, the only way to move a bill is to attract broad support from Democrats. The negotiations yield a simpler bill that combines border security measures, an expanded worker verification system, more worker and family visas and a broader earned path to legal status and citizenship. Though controversial, the bill is approved by a slim margin in the House and by a wide margin in the Senate in October. The president happily signs it into law.
Likelihood It would take something close to a miracle for this scenario to happen. First, Republican House leaders would have to decide they really want a bill, and then would have to embrace key components of the Senate bill they have spent the past three months attacking. Democrats, who are in no mood to give the Republicans a victory when they're on the verge of taking back control of one or both chambers of Congress, then would have to supply the winning margin of votes. The only way for this dream to come true is if the Republican leadership becomes so determined to produce a legislative result they make an offer the Democrats can't refuse. Unfortunately, this is Washington, D.C., not Hollywood.
Scenario 4: Guestworker-only plus enforcement
Republican House leaders decide to go for a bill this fall that adds an old-style "work-and-return" guestworker program to most of the tough enforcement measures in the original House enforcement-only bill. They trumpet this as a "Republican version of comprehensive reform" that says no to what they call the Senate "amnesty" provisions, and no to the Senate's sensible increases in permanent family and work visas. House leaders convince the White House and Senate Republicans to support this for the sake of party loyalty and mid-term survival. Just enough Republicans support it in both chambers get it across the finish line, and the president signs it into law.
Likelihood Not gonna happen. Republicans are simply too divided to produce enough votes to pass a Republicans-only version of reform. Rep. Tom Tancredo (R-Colo.) will make sure enough Republicans oppose any bill with guestworker visas, and almost no House Democrats will vote for a guestworker-heavy bill. And even if they did, the Senate Republican reformers would not go along. For them, it's simple: no path to citizenship, no solution, therefore no deal.
So, if the most likely scenario - a stalemate - wins out, what then? Well, if the House remains in Republican hands and they credit their come-from-behind victory in November to "standing on principle" against the president and the Senate, watch out. The worst is yet to come.
If, on the other hand, if the House Republicans take a beating, either by losing numerous seats yet retaining the majority, or by losing control to the Democrats, what then? Well, if it becomes clear that immigrant-bashing and having no realistic solution on immigration backfired, then the next two-year Congressional session just might be the time to make real progress towards the enactment of workable comprehensive immigration reform.
On the third hand, the only safe prediction in the immigration debate is that the future is unpredictable.
For the latest developments on our US immigration policy, please visit
Migra Matters - Progressive Immigration Reform
Click Read more for the list of cities who are participating in these events
September Nationwide Labor Day Weekend Immigrant Actions
Houston, TX - September 4, 10 AM March In Defense of Immigrant Rights from Market Square to City Hall. Tel: (832) 277-3903 URL: http://myspace.com/100312862

Los Angeles, CA -1 (Downtown LA): September 2, 12:00 PM Olympic & Broadway. Tel: (818)989-3019 URL: http://www.March25Coalition.org

Los Angeles, CA - 2 (Wilmington): September 4, 8:00 AM (Assembly) 10:00 AM (March). Tel: (714)541-0250 URL: http://www.MAPA.org

Chicago, IL: September 1 - 4, Immigrant Workers Justice Walk from Chicago to Batavia, IL. Tel: (877)762-7242 URL: http://www.movimiento10demarzo.org

Pittsburgh PA: September 3, 3:00 PM East Carson and 22nd Street, Southside. E-Mail: PFOIinfo@gmail.com

St. Paul, MN: September 4, 10:30 AM 139 Concord St. (corner of Cesar & State St.) Tel: (651)389-9174 URL: http://www.mnimmigrantrights.org

Newark, NJ: September 4, 11:00 AM Lincoln Park. Tel: (973)643-1924
San Francisco, CA: September 4, 10:00 AM Embarcadero. Tel: (415)487-9203, (510)839-7598

Oakland, CA: September 4, 9:00 AM E. 14th St./International Blvd. + 98th Ave Tel: (510)502-9072 URL: http://www.BAMN.com

Fresno, CA: September 4, 4:00 PM Fulton Mall.

Phoenix, AZ: September 4, 9:00 AM State Capital. URL: http://www.SEIU5az.org

Washington, DC: September 7, 4:00 PM The Mall 3rd & Constitution. URL: http://ncic-metro.org
Tags: